"If you want to be great and successful, choose the people who are great and successful and walk side by side with them."  – Ralph Waldo Emerson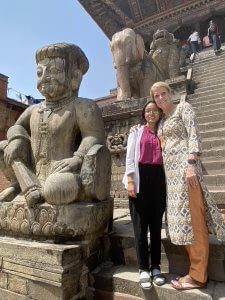 The above quote aptly describes the journey of the children of Himalayan Children's Charities and its founders Bruce and Susan Keenan. Twenty two years ago, Bruce and Susan had a vision to assist the orphaned, abandoned, and at risk children in Nepal by providing safe, loving housing in a close family environment, the best educational experiences available, and mentorship programs.  The Keenan's have taken their years of successful businesses, their involvement in philanthropic organizations and have provided their experiences and the experiences of their peers to the children and young adults of HCC. The students have walked successfully beside the founders, mentors, sponsors, and supporters to become the future leaders and change makers in Nepal.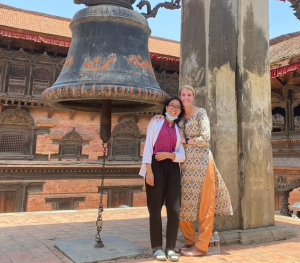 Three years ago, I  became involved with Himalayan Children's Charities as a volunteer. Through my journey I became aware of the need for sponsorship of these wonderful, passionate young students.  Very shortly thereafter I  became the grateful sponsor of a beautiful, now 18 year old young lady named Ganga, who  is an intelligent, compassionate, and thriving young artist. Ganga  is currently awaiting admission to Kathmandu University and is  pursuing a degree in Fine Arts.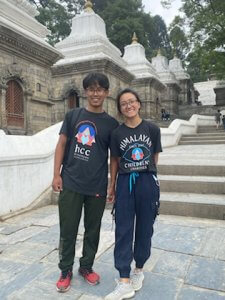 I recently traveled to Nepal to visit the children and the HCC leadership. It was my first in-person meeting with Ganga and her fellow brothers and sisters.  It was truly a glorious and transformational  experience!  During my stay, I  had the great opportunity to be guided through the sights, villages, and towns of Kathmandu by Ganga and fellow student Jaman. Jaman is currently enrolled in the Medical College of Birgunj. He hopes to bring his medical knowledge not only to the residents of Kathmandu, but to the rural villages which have great medical need, as well. 
We enjoyed three full days of getting to know each other's cultures and lives while immersing ourselves in the tradition and culture of Nepal.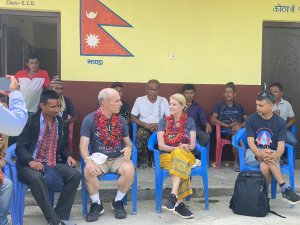 Toward the end of my journey we developed a close connection and bond. I witnessed Ganga, who I first met as a quiet, reserved young lady, just blossom into self-confidence.  Ganga, Jaman, and all of the students of Himalayan Children's Charities have a love for life, education, and each other. I experienced a different level of appreciation of what HCC has provided for these students by experiencing it in person. The impact that Himalayan Children's Charities has had on the lives of so many children in Kathmandu and the surrounding villages (Dhading and Benighat) are extraordinary.
Khushi Ghar, "happy house" in Nepali, is the group home that has housed, nurtured, loved, and educated  54 children over the past 22 years. Dinesh and Hira Sapkota have been the house parents for all of these years. I was welcomed with open arms and left humbled and grateful to have shared two weeks of experiencing their lives at work and play as one of the gang!  Dinesh, HIra, and all of the members of HCC Nepal have instilled a wonderful sense of family, love of self, work ethic, direction, and the importance of giving back to the Nepali community.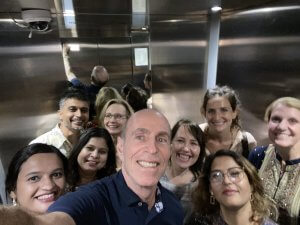 They continually inspire the students to look toward and accomplish any of their goals, both personally and professionally.  The feeling was  one of pure joy when I was surrounded by the aura of Khushi Ghar and the students' presence. It is clear that they have an insatiable appetite for learning, expanding, and exploring their worlds and their place in that world. Their love is contagious! Singing, dancing, and reveling in the enjoyment of being together as a family. Pure joy!!
As I reflect upon my experiences in Nepal with the HCC Family, the emotions that arise are of happiness and gratitude. I was changed by the experience in the most beautiful way, and now have a  lifelong bond with my second family a world away. 
I have tried to paint a brief picture of my experience in Nepal, however, words alone will never do it justice.  It my sincere hope that each current sponsor, or anyone interested in sponsorship will take this journey to meet the incredible students and staff that have made Himalayan Children's Charities so successful in creating the future leaders in Nepal and surrounding areas.
Lovingly told by Carol Hoffman
If you would like to change the life of a student in Nepal, donate today