HCC Student Shristi wrote about her volunteer work for a charity futsal tournament for female empowerment held by the organization Girls Empowered by Travel. Futsal is a derivative of soccer played indoors with 5 person teams.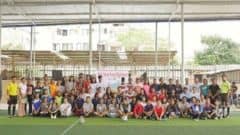 I am a student of Mass Communication and Journalism in Trinity College in Kathmandu. I was always looking for some platform to enhance my skills and explore the world. On July 1st, I got this wonderful opportunity to volunteer for the Girl Power Futsal Tournament (a type of indoor soccer) organized by Girls Empowered by Travel Nepal (GET-Nepal) with an objective to provide a platform for young girls to showcase their talents through sports. It was my first time volunteering. I was a bit nervous looking at a huge group of people very excited about the futsal match. I was happily welcomed by GET coordinator, Sajana, and they made me feel comfortable. I was very happy and excited to meet other fellow volunteers my age and get along with them.
I was given the role of tracking the score of the futsal match and report it to the event coordinator, Radhika for tallying, as it was a league tournament. I was working along with other volunteers closely, and that helped me to overcome my shyness. I was happy that this helped me enhance my level of self-confidence.
I never thought that one day's volunteering would help me to connect with so many other young girls who are inspiring and motivated to work for girl issues in Nepal. I would like to thank Khil for creating this network between GET Nepal and me. I am highly encouraged and motivated to get involved in upcoming events of GET Nepal.