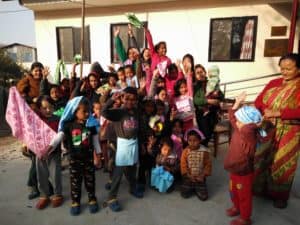 Before joining our program in Kathmandu and starting a new life at Khushi Ghar, many of our HCC students began their life growing up in the state-run orphanage Bal Mandir. Located in an old palace building in Kathmandu, lack of financial support leaves Bal Mandir in a difficult state. Without access to the necessary funding, even basic necessities are a struggle. Access to food is scarce, new clothing is hard to come by, and overcrowding is common, with children sleeping 2 or 3 to a bed.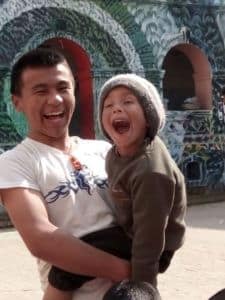 Under the umbrella organization of the Nepal Children's Organization (NCO), Bal Mandir houses 40 children, another location in Kathmandu houses an additional 40, and another 320 children are housed by other NCO orphanage locations throughout Nepal. Drawing from all over Nepal, children between the ages of 2 months and 15 years living at the orphanage. Once they turn 15, they are considered too old to remain at the orphanage. Last year, President Bidya Devi Bhandari visited Bal Mandir to check on the conditions of the home after Bal Mandir had been damaged by the massive earthquake that rocked Nepal to devastating effect in April of 2015. This January, Hira, Dinesh, Mun Maya, and 20 HCC students had the opportunity to meet President Bhandari at the Presidential Building. HCC's very own Chet had the opportunity to be introduced to President Bhandari in her current capacity as Miss Bishwokarma. She was able to speak to the President's staff at the Presidential building about the work of HCC and its benefit to the orphans of Nepal, just like the ones at Bal Mandir.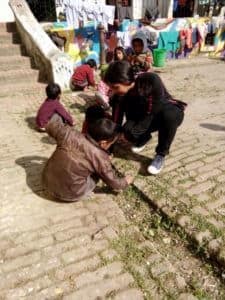 At the age of 4, Chet was admitted to Bal Mandir and spent most of her childhood in the orphanage. She knows firsthand the hardships that these children face every day. After her time with HCC, at University and as the current Miss Bishwokarma, Chet also understands that these children should not be forgotten or left behind. That is why she took time to volunteer at the orphanage, spending time with the children, helping to clean the orphanage grounds, and providing lessons on personal hygiene (tooth brushing, hand washing, etc.). Not only does she wish that all children be treated with equal dignity and nurturing care, she sees their potential and hopes that through her personal successes, but she can also raise awareness about their plight. As a guest of the formal program to meet with the President, Chet hopes to raise the profile of the issues regarding these orphans. Chet hopes to "request the President to work for the welfare of the Dalit (low caste) children."
During this first week of January in 2017, Hira and several of our senior students led a volunteer effort for 6 days at Bal Mandir. HCC students volunteer at Bal Mandir for lessons on the important civic value of volunteering, but to also give them an opportunity to see where they came from and where they used to live before moving to Kushi Ghar. They helped clean orphanage grounds by picking up garbage and cutting back foliage. The HCC team also ran a hygiene and sanitation workshop for students and staff of Bal Mandir, providing soap, toothbrushes, lotion, antiseptics, and towels. HCC volunteers at Bal Mandir every year, giving out meat and rice on festival days, providing money and other resources to celebrate festivals such as Children's Day, and helping to clean the grounds to ensure environmental health and sanitation. Throughout the year, HCC students give their time and talents to their community and improving the lives of children just like them.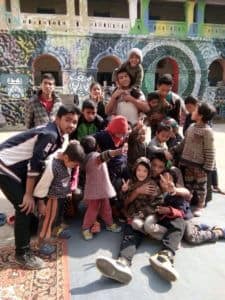 Through their work at Bal Mandir, our students are fulfilling one of the primary precepts of HCC to create a generation of community and global leaders dedicated to the notion of giving back. For many of these students, volunteering for Bal Mandir is returning to a homestead. In some ways, it is an opportunity to peer into a life that could have been, but in others, it's an opportunity to utilize to the fullest extent every opportunity provided. By 2020, HCC hopes to transform 5,000+ at-risk children in Nepal by providing nurturing care, education, and mentorship. However, as we can see at Bal Mandir, our students are at the forefront of this mission by giving back what little they have. Through their work, dedication, and leadership by example, we are already seeing our students transform from at-risk children into community leaders uniquely poised to break the cycle of poverty.