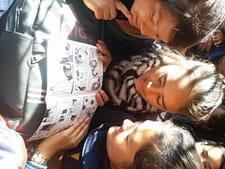 Since 2013, January has marked a time when the international community comes together to reinforce the importance of spreading awareness of and prevention methods for human trafficking. On December 31st, HCC staff continued to spread awareness of human trafficking to the most vulnerable constituency in Nepal: school-aged children.
In partnership with Cause Vision, a media company dedicated to developing informational materials for the needs of individual communities, HCC has distributed anti-trafficking comics to schools and communities across rural Nepal. On December 31st, HCC staff distributed the anti-trafficking comic CHAMELI GOES TO SCHOOL to the Shree Janajyote H.S. School in Banepa, rural Nepal. 55 students in grades 6-10 received comics to help them learn how to identify and avoid potential trafficking situations. CHAMELI tells the story of a Nepali student who is trafficked to help students and communities recognize common strategies traffickers use against vulnerable children and families.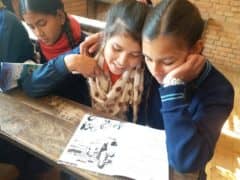 CHAMELI GOES TO SCHOOL intends to educate children and communities about the very real danger of human trafficking in a non-threatening way. With adequate information, children and communities are better equipped to prevent human trafficking. Human trafficking still remains a massive problem in Nepal, with hundreds of thousands of Nepalis trafficked within Nepal and abroad. The open borders between Nepal and India provide relatively easy routes for traffickers. Current estimates place 200,000 Nepali women and girls currently trafficked and working in brothels in India. HCC seeks to bridge the information gap in rural communities by providing important safety information in a non-fear-inducing way.
HCC aims to continue distributing comics to even more schools and communities across Nepal in 2018.