ANNOUNCING PARTY FOR A CAUSE IN ATLANTA, NOVEMBER 17, 2017!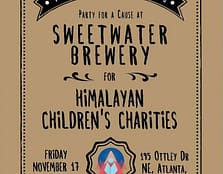 Join Himalayan Children's Charities for the annual "Party for a Cause" at 7pm on Friday, November 17th at Sweetwater Brewery in Atlanta.
Guests will enjoy a tour of Sweetwater Brewery and a beer tasting along with music, buffet dinner, and a silent auction included in the $100 per person price of admission. Program highlights include a video message from sponsored students in Nepal and a program update from HCC Co-Founder Bruce Keenan on his most recent fall trip to Nepal. Guests can purchase holiday gifts from the boutique of handcrafted Nepali items such as shawls, ornaments, and jewelry. Proceeds from ticket sales and auction will benefit HCC's programs. Click below to register! 
Guests can preview silent auction items on the GiveSmart Mobile Bidding Site and are encouraged to register in advance so that they can participate in mobile bidding. Outstanding auction items include the once in a lifetime experience Astronaut Training at Kennedy Space Center, alluring travel packages to Costa Rican & Mexican resorts, 4-night Luxury Home stay at Montana Sporting Club in Belt, Montana, VIP Experience at Atlanta Hawks game, Center Box tickets to Lakewood Amphitheater concert or event of winner's choice for 2018 series, and many more items to come!
Interested in learning how you can support HCC through sponsorship or auction donations? Please contact Susan Keenan at 678-575-9912 or [email protected]