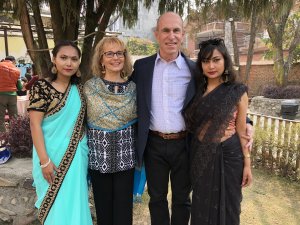 Dear HCC Family,
We hope you and your family are healthy and safe during this unprecedented global health crisis.
To keep our students safe, we are, first and foremost, following health guidelines released by the Nepali government. As of today, Nepal has only had one reported case of COVID-19. However, the Nepali government has halted visitor visas until at least April 15 and closed almost all public tourist sites (including Mt. Everest). The government has also ordered the closure of schools, universities, cinemas, gyms, clubs, public swimming pools and museums until April 30.
Our Signature Program and Higher Education students are now at Khushi Ghar and the nearby annex apartments, and our students in the Rural Education Scholarship Program are at home with their families.
We are encouraging ALL of our students and staff to practice safe social distancing and increased hygiene procedures. All HCC events, including the planned March graduation ceremony in Kathmandu, are suspended for the foreseeable future. We have also suspended student field trips and are limiting student contact with public places.
Despite the risk to our students and staff being low, HCC is taking these precautions seriously. Additionally, if anyone is to become ill, HCC will provide complete medical coverage.
Our students are stepping up and helping each other with their studies: university students holding their own home school classes for the younger members so they won't fall behind, and generally supporting the whole HCC family in this crisis.
We will keep you updated on any future changes, and thank you for your concern and continued support.
With love and gratitude,
The HCC Team